ICPC 2019 REGIONAL PROGRAMMING CONTEST

Windsor, Ontario / East Cerntral North America

October 25-26, 2019
---
1. Hotel
University of Windsor special visit rates may be available by calling the local number and asking for the University of Windsor rate at certain hotels.
West-End Hotels

View ACM ICPC Hotels in a larger map
Holiday Inn Select
1855 Huron Church Rd., Windsor
Web Site Tel: 1-800-465-4329 or (519) 966-1200

Hampton Inn & Suites
1840 Huron Church Rd., Windsor
Web Site Tel: 800-Hampton or 519-972-0770

Downtown Hotels
Best Western Plus Waterfront Hotel
277 Riverside Drive West, Windsor
Web Site Tel: (519) 977-9707

Comfort Suites Downtown
500 Tuscarora Road East
Web Site Tel: (519) 971-0505

Travelodge Hotel Windsor
33 Riverside Dr. East
Web Site Tel: (519) 258-7774

---
2. Directions and Transportation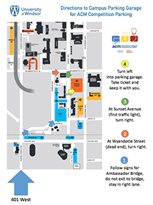 For PARKING DIRECTIONS, CLICK HERE.
Driving from Ontario

View ACM ICPC Transportation in a larger map
Windsor is at the western terminus of Highway 401. Follow all signs for Ambassador Bridge. When approaching the bridge, stay in the right lane and drive past the bridge entrance, which will be on the left. The road will end at Wyandotte Street. Turn right (east) and then right (south) onto Sunset Avenue and park in the Parking Garage on your left. Parking must be paid with a credit card to a maximum daily rate of $10.
By Rail
The VIA Rail station is located five kilometers from campus. The Crosstown 2 bus is frequent, and follows Wyandotte Street, a direct route to the University of Windsor. Take the westbound bus until you reach the main campus. The Crosstown line also travels through downtown, but is still a few blocks south of the cluster of riverfront hotels.
By Air (Windsor Airport)
Flights from Toronto (Pearson or Billy Bishop City Airport) arrive at Windsor Airport (code YQG). The Walkerville 8 bus line serves the airport, providing a link to the downwtown bus station, where you can catch the Transway 1C to get to the University. Route 8 service to the airport is not available on weekends, so a taxi or car rental will be your best option.
By Air (Detroit Metro Airport)
Windsor is exceptionally close to Detroit Metropolitan Airport (code DTW). Interstate 94 eastbound will take you to Interstate 96, which will connect to to the Ambassador Bridge. The Canadian side bridge exits in the middle of campus. Keep right past Canada Customs and head north towards the river. If you rent a car at the airport, make sure you inform them of your intention of crossing the border. Alternatively, you can catch the Robert Q Airbus or About Town AirbusExpress shuttle service which takes you to hotels close to the university. Reservations are necessary for the shuttle service, and can be made online. Round trip fares are about $80 per person. Taxi trips from Metro Airport are will involve a border crossing and tolls. Limousines can also be arranged.
Driving from the United States
Windsor, Ontario is directly across the river from Detroit, Michigan, We are geographically south of Detroit. Two border crossings are available, both charge tolls ($5 one way) and you will have to pass through customs, so remember to bring your passport.

The Detroit-Windsor Tunnel connects the downtowns of both cities. The US entrance to the tunnel is off of Jefferson Boulevard. You can approach Jefferson Boulevard from the west from M-10 (Lodge Freeway) or from the east from I-375 (Chrysler Freeway). If taking the tunnel, turn left past customs, turn left onto Ouellette Avenue, and then turn right onto Wyandotte Street. Wyandotte Street will take you to the University of Windsor. Visitor parking is at the corner of Wyandotte and California in the Parking Garage, maximum daily rate of $10, paid by credit card.

... or ...

The Ambassador Bridge exits on the Canadian site in the middle of campus. When clearning customs, take a sharp right and make the U-turn towards the river. Turn right onto Wyandotte Street. Parking is at the corner of Wyandotte and Sunset.

If travelling from the United States, make sure that you are carrying a valid passport. You will need a passport to get into Canada and back into the United States
For a campus map click here.
---
3. Schedule
Friday, October 25, 2019
5:00PM - 6:30PM
Registration
Lambton Tower 3rd Floor: Commincations Seminar Room, Room 3101
7:00PM - 7:25PM
Contestant Environment Demo
Erie Hall 3123
7:30PM - 9:00PM
Practice Contest
Erie Hall 3rd Floor Labs
9:05PM - 10:00PM
Questions and Answers Period
Erie Hall Room 3123
Pizza and Pop
3rd Floor Erie Hall Hallway
Saturday, October 26, 2019
8:30AM - 9:30AM
Full Breakfast
Erie Hall 3rd Floor Hallway
9:30AM - 10:00AM
Assemble for Contest
Erie Hall Room 3123
10:00AM - 3:00PM
Contest Time
Erie Hall 3rd Floor Labs
10:00AM - 3:00PM
Coaches Lounge
Erie Hall 3rd Floor Seminar Room 3105
12:00PM
Lunch for contestants
Erie Hall 3rd Floor Hallway
3:30PM - 5:00PM
Banquet and Contest Results

Freed Orman Centre
---
4. Environment
The programming environment is based on the image used for the ACM International Finals (Ubuntu 18.04.3 LTS Linux) and will include:
Kattis Contest Control System
OpenJDK 11.0.4
C 7.4.0
C++ 7.4.0
Python 3.6.8
Kotlin 1.3.50
Available text editors will be:
vi/vim
gvim
emacs
gedit
geany
kate
Available IDE's will be:
Eclipse 4.13 (2019-09)
IntelliJ (IDEA 2019.2.2)
CLion (2019.2.2)
Pycharm (2019.2.2)
Code::Blocks (17.12-1)
See: 2020 ICPC World Finals Programming Environment for more details.
All access to the Internet (other than to the Kattis server, the print server and other necessary system resources) will be denied.
---
5. Contact
For more information please contact Dr. Ziad Kobti (kobti[-at-]uwindsor.ca).
---